Skills Series Placement Schedule -  March 2021
Registration will go live February 1, 2021. See below for more information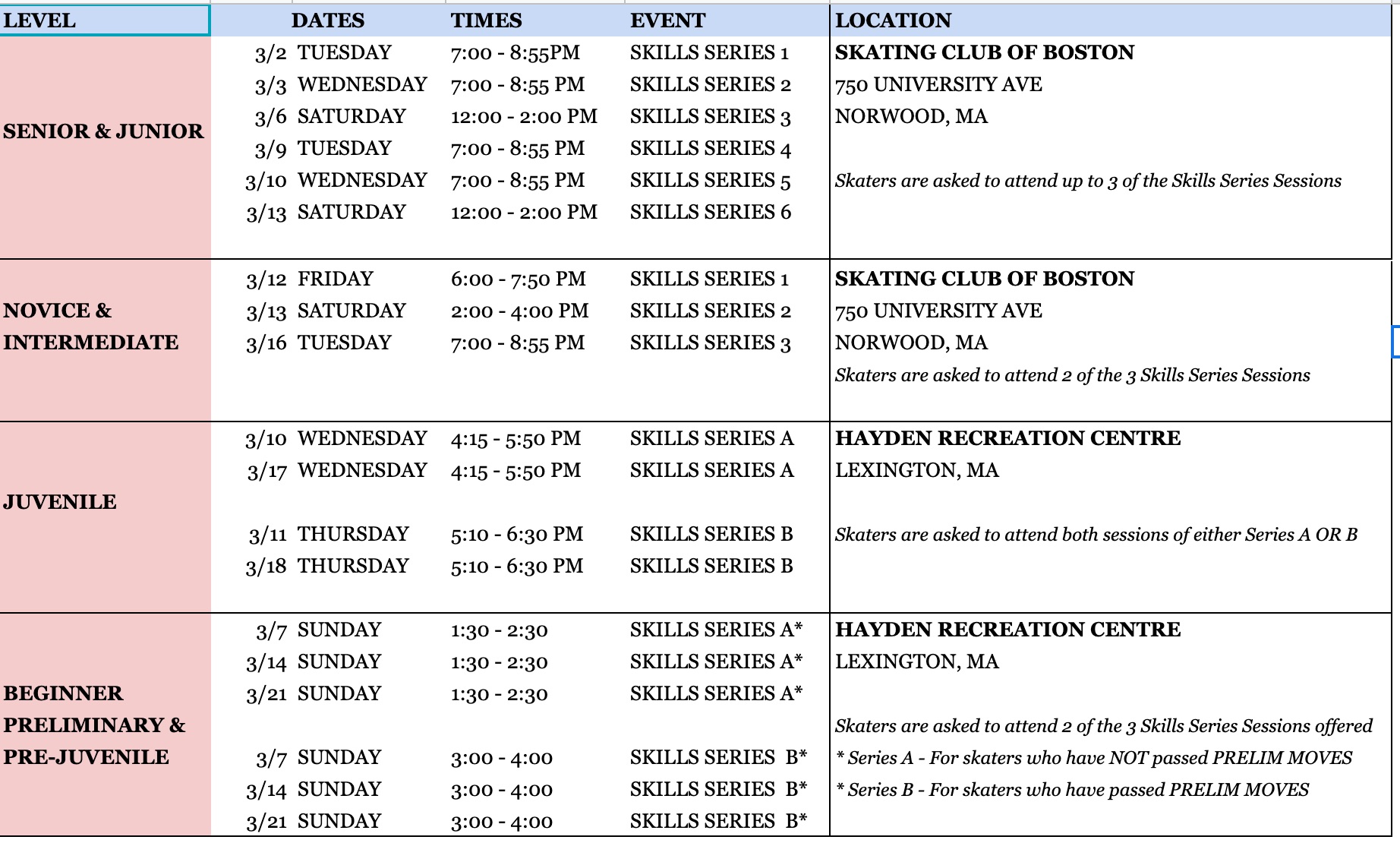 PLACEMENT PROCESS 
REGISTRATION WILL GO LIVE ON FEBRUARY 1, 2021
The process for accurately placing skaters on a team is more than just one look at the skaters' skills in a "tryout" or in a testing environment. This year, our coaches are asking skaters to attend skills sessions across several days in order to assess individual and team skills both on and off the ice. 
Skills Series by Skating Level
We have found it best for our skaters looking for placement on:
our

developmental teams

(Beginner, Preliminary and Pre-juvenile teams) to attend

two sessions

of the skills series

our

national competing teams

(Juvenile, Intermediate and Novice teams) to attend

two session

s of the skills series and 

our Junior and Senior teams to attend

up to three sessions

of the skills series.
See the chart above to find the exact dates, times and locations for the Skills Series for each team level.
Registration
Placement cost, regardless of the number of sessions attended, will be one fee;
$150 for Jr. / Sr. Placements

$75 for Int / Novice Placements

$60 for Juvenile Placements

$30 for Shooting Stars Placements
Once registered, you can expect an email that provides more information about the placement process. 
It is most important to note that we adhere to all the rules and regulations set forth by the state of Massachusetts as well as the facility we are in. Due to COVID-19 restrictions, we are limited to the number of people allowed to attend. Registration for our placement sessions will be accepted on a "first come, first served" basis.

Skaters from outside of Massachusetts
Skaters who have traveled from outside of Massachusetts will need to adhere to the Massachusetts Travel Order, either by quarantining or showing proof of negative PCR test. Please closely review the Massachusetts Travel Order for exact requirements, as we will not accept any skater who does not fulfill the requirements.
As much as we find it best to see skaters in person, we understand that there may be skaters who find it impossible to travel to our placement sessions. If you wish to speak further about possible opportunities for a virtual process, please contact us at skatewithus@haydensynchro.com.
Please email us at skatewithus@haydensynchro.com with any questions.