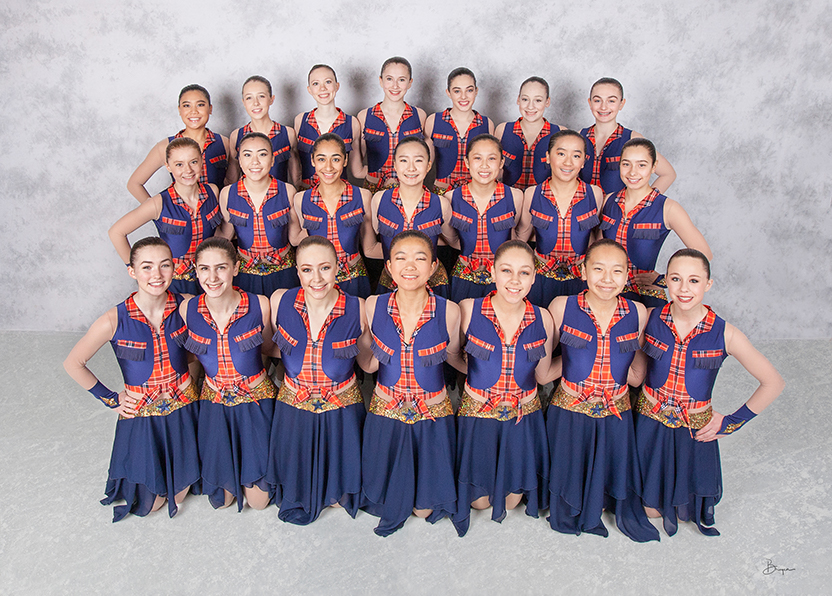 Madeline Amidon, Emily Barnes, Audrey Brown, Mary Carney, Shelby Coe, Hyunah Do, Evelyn Duffy, Paige Felton, Emma Gruber, Grace Highum, Sophie Le, Elly Monaco, Khushi Morparia, Jiahe Niu, Emilie Rennie, Ashley Sapiente, Jillian Schmottlach, Kendra Smith, Cayla Weiss, Sami Winawer, and Payton Wynn.
---
Head coach:  Saga Krantz
Assistant coaches:  Eliana Marostica & Ashley Tomich
Free skate program: Country Girls
---
Hayden Synchronized Skating's novice-level team, the Ice Mates, compete in the third-highest division, skating in regional and national events.  They are the 2018 U.S. National Silver Medalists. The Ice Mates have been skating as a team since 1988 earning 20 U.S. National Championships and more than 50 gold medals in U.S. local, section and international competitions. Before U.S. Figure Skating changed the team age requirements, they were one of a few novice teams to compete in Europe. At the 2012 U.S. National Championships, the Ice Mates posted a score of 81.48, which remains the best mark in the novice division. 
2017-18 Ice Mates athletes range in age from 13 to 17 with hometowns in Massachusetts, New Hampshire and Connecticut.  The team's mission each season is to earn a U.S. National medal and to prepare athletes with skills required to move to the junior division. The Ice Mates give back to the community through volunteer work and exhibitions. In past seasons, they have participated in the Pan Mass Challenge - which raises money for the Jimmy Fund and the Dana Farber Cancer Institute- and in Making Strides Against Breast Cancer - a fundraising walk for Ovarian Cancer. This season they spent a day working at Boston's Christmas in the City, helping families in residential transition.