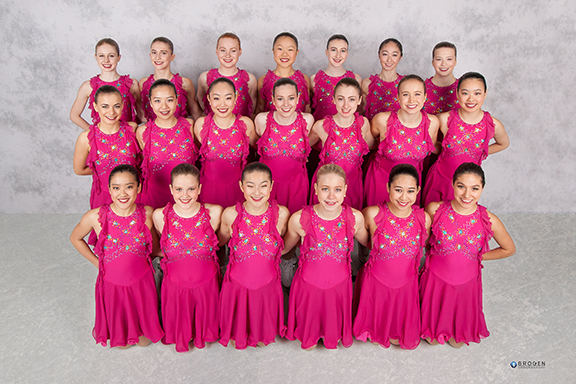 Head coach:  Saga Krantz
Short program: Nashville Glitz
Free skate program: La La Land
---
Hayden Synchronized Skating's junior-level athletes, the Lexettes, compete at the second-highest level of figure skating both nationally and internationally. The Lexettes are the 2018 U.S. National Silver Medalists.  They represented the U.S. at the 2018 Leon Lurje Trophy in Gothenborg, Sweden where they finished second and at the 2018 French Cup in Rouen, France where they finished third.  They have represented the US in world competition for six consecutive years (in 2013, 2015, and 2017, at the ISU World Junior Synchronized Skating Championship and in 2014, 2016, and 2018 at the ISU Synchronized Skating World Junior Challenge Cup). In recent seasons, they have competed in Mississauga, Canada; Salzburg, Austria; Zagreb, Croatia; Neuchâtel, Switzerland, and Helsinki, Finland. 
The 2017-18 Lexettes' athletes are 15 to 18 years from five U.S. states, and most attend high school, colleges, or universities in the Greater Boston area.  Each season, the team's mission is to earn a U.S. National medal and to qualify for the ISU World Junior Synchronized Skating Championship. LEX DO IT!
The Lexettes give back to the community through volunteer work and exhibitions. In past seasons, they have volunteered at Atlas Fireworks' Charity Golf Tournament (which benefits a local hospital), the Pan Mass Challenge (which supports the Jimmy Fund and the Dana Farber Cancer Institute), A Race for the Cure (which supports the Susan G. Komen Cancer Foundation). The Lexettes have also made appearances at the tree lighting at NYC's Bryant Park and at the Holiday Celebration in Providence, RI.
---